Welcome To Verzilli Racing
Our 1969 RS/SS Camaro Drag Racing Team Homepage and Information Index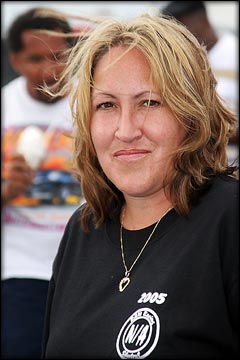 It is with mixed emotions that we welcome you to Verzilli Racing.com a year after her passing. As a webmaster I have struggled to complete this with a heavy heart after losing one of my best friends and just how to launch this website knowing Susan was so up for this. A year later I have not changed the original text that was discussed between us before she passed other than this introduction below, most of this is Susan's own words about the team and her idea's.

During the course of building our first website, Susan Verzilli passed away suddenly and unexpectedly leaving a large gap in this racing team's heart and minds.

Susan was the main source of recent news and spreading the word of Verzilli Racing throughout the internet as the new home of the Bad Black 1969 SS/RS Camaro known well in the country as one of the sharpest and meanest street style Camaro's to run in major event's and win championships would be sent out to the public just after her demise.

Susan would never see the final website finished yet her participation in it's creation was nothing short of intense and spirited, she only asked that it reflect the red, white and blue, plus the black and chrome of the car with the colors of the turn signals; something colorful, informative and "really cool".

There are many tributes from message boards, our own guest book and some more from the funeral home to add your comments and we will keep it updated as a memorial to this special woman of racing.

Susan motivated Bill to participate with a solid street car running in the early days of Quick 8 racing in the hometown of New Jersey, this Camaro could do it all. Bill, the late Susan Verzilli and Bill Jr. had steadfastly broken all of the rules about a true big cubed street machine winning many of the toughest races and awards from many venues.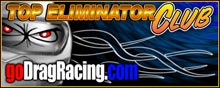 In the early years of goDragRacing.com, there was a new class coming around named the 8.50 Index and racers clamored to be a part of this, such as Bill Verzilli who cut his teeth on many area drag strips against some of today's most winning Outlaw 10.5 champions namely Joe Newsham of JandEPerformance.com .

goDragRacing.com thought it would be eventful to participate in their own web site based "top Eliminator" awards for points in the series with Bill Verzilli being the first "unofficial points winner" of this class, the next year followed and tracks took on their own points system from this first thought of the small website in the northeast.

Fast forward to today and you have Bill Verzilli a champion at Atco Raceway, Raceway Park, Cecil County Dragway, and more including early ventures with Ram Racing's Naturally Aspirated Shootouts. One of the most prominent is the Shakedown at E Towns history of great race drivers in their session of the newly added Index to go with this major event. Verzilli Racing was a show in itself and Susan Verzilli put together an added source of monies raised by her own efforts to enhance the The "Shakedown At E Town Index 8.50" class they so enjoyed as competitors and ambassadors.
Read More Racing News Here:

The Verzilli Racing Experience, The Camaro History
Racing News From Team Verzilli Throughout The Years Unleashed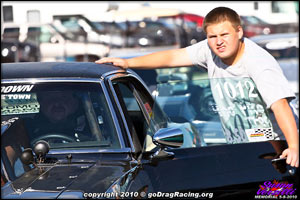 An enormous amount of Press, News, Reviews and Print have been given to the team of Verzilli racing throughout the years, not a lot of racers get this distinction but this team definitely has the where-withal to stand out in the classes from the original Quick 8's, naturally aspirated racing, No Time Nationals, NSCA and the wild Saturday Street Car Shootouts at Cecil County.

Their performance comes from being one of the most underestimated teams though the people behind them have been Championship engine builders, Chassis and tuning wizards.

It's hard to compete on a budget but Bill's preparation and devout showings at almost every race there could possibly be made them a fierce competitive team.

In the Verzilli Racing Experience, you'll find years of racing news and reviews that solidify their position in the history books and still being written past this intro as the car is one of the top rated 8.50 Index Camaro's of all time.

Read More About The Team And Their Contributors / Causes Here

How It All Came About Racing The Camaro:
Susan's Own Words On Building A Racing Team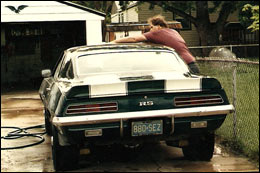 Bill Verzilli began racing 30 years ago. From the streets of Philadelphia to Atco Raceway and Cecil County Dragway, the need for speed was evident.

Racing began with his 67 Tempest / GTO, then on to a series of Camaro's including a beautiful green 69 RS/SS Camaro that was widely well known at the tracks and all over South Philly. A second car was purchased for weekend cruising. That car is a beautiful 10 second 87 Buick Grand National.

For the last 9 years, the car of choice is a big black beast in the form of a 1969 RS/SS Camaro, complete with working hideaway head lights, stock dash, stock headliner and door panels.

Getting the car to run from the 9.90's to 8.50's was no easy task. After many years and changing engine builders, the car now runs consistently in the rapidly growing 8.50 Index series. Powered with a 632 Big Chief motor built by Henry Jackson and a suspension and chassis finely built and tuned by J & E Automotive Performance and Rhodes Custom Auto, the goal was achieved.

Suan Also Thanked These People In Particular: Products: Rossler Transmissions, Mickey Thompson, Aerospace Brakes, Pro Torque Converters, VP Fuels with Special thanks to: Carey Cable 10.00 Index Racer And Owner, Mark Bowen - Fellow 8.50 Index Racer and Owner, John "UNK" Campbell, Joe Newsham and Ed Harper - J & E Automotive Performance, Henry Jackson Racing Engines, Dave Crower at Crower Cams

See The Specifications Of Our Camaro Race Car Here

Drag Racing Results Blog

Please feel free to check out our drag racing news and results Blog, various race series where we have competed over the course of years condensed into our own class either when we raced in Outlaw 10.5, naturally aspirated or now the 8.50 Index series. Visit Our Outlaw Index Drag Racing News Blog Here



Multimedia Center

Verzilli racing has been covered and written about for many years which allows us to give you a rich multimedia experience on many levels, from high quality HD video to photo galleries and hi res wallpapers and backgrounds all here featuring friends and of course our own Camaro. Please enjoy the entertainment section or "multimedia" center of our website Here


Home Page | About Us | Racing News Blog | Camaro Specs | Racing Schedule | Drag Racing Multimedia | Our Sponsors | Drag Racing Links