Meet Team Verzilli Racing
All About Team Verzilli Racing And The 8.50 Outlaw Index Camaro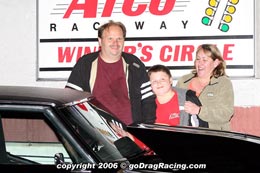 Verzilli racing is based in New Jersey and frequents many tri state area tracks and venues running this awesome 1969 Camaro packed with 632 cubes of big cheif headed Chevy power with a little spray. The team consists of Bill Verzilli, Bill Verzilli Jr. and the angel by their side now the late Susan Verzilli. Many people have helped this team throughout the years, some noted Mark Bowen, John "UNK" Campbell, Carey Cable Sr., Joe Newsham, and Wayne Keegan with so many others. Their presence in all of the racing dating back to the original Quick 8's is impressive, a full steel bodied car running with power adder rides in the class as this started as a naturally aspirated Camaro. Years passed and so did the rules governing the classes. Bill and Susan opted to keep the car in its form it is now to compete in the 8.50 Index Series that are now the most abundant in car counts.

Team Verzilli Racing is supported by all as a true fan of this class and a fierce competitor whenever you come up against him as through the progression of racing in the northeast and many organizations, Bill and Susan played important roles in running each class even if they were outgunned by newer technology or they had the car to run with the giants of what is now Outlaw 10.5, Verzilli Racing has always been in the game and many times visited the winners circle.

Below are some photos taken from the Inaugural Susan Verzilli Memorial Season opener last year and the Awards Ceremony from the Shakedown at E Town where Susan was recognized for her efforts in making added bonus money available for the huge class that showed up and driven by good friends Ali Buscio "Buscio Racing" and Harry Gerb "www.h-jmotorsports.com.



Shakedown At E Town Awards Photos
Susan Verzilli Remembered At Shakedown At E Town 2010



View The Complete ADRL Shakedown At E Town Photos:Here:

Read The Full Review At The Official ADRL Shakedown At E Town Website:Here:



Nostalgia Camaro Parts Brochures Photo Slideshow
Since this is a Camaro lovers dream car we've added some brochures and literature to enhance your thoughts of what was to be this bad, black beast in the future.


Home Page | About Us | Racing News Blog | Camaro Specs | Racing Schedule | Drag Racing Multimedia | Our Sponsors | Drag Racing Links